I'm so excited to introduce my cake mix peanut butter brownies for the July edition of Blog, Film, Food.
The movie for this month is My Big Fat Greek Wedding.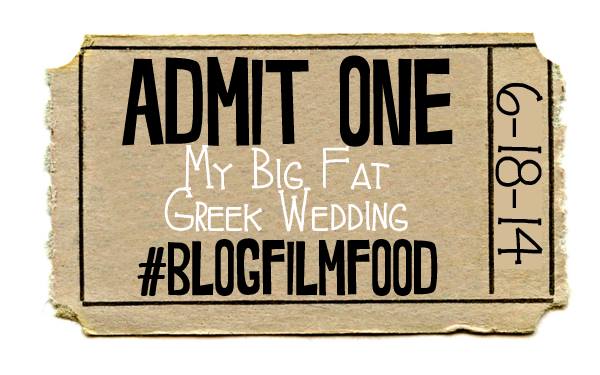 You might be wondering what brownies have to do with this film.
If you've seen this funny movie, you know it centers around Toula, a girl who struggles with her family's expectations for her life and future spouse.
Ironically, the ending of the movie features Toula's daughter experiencing a similar struggle. The final part of the movie involves Toula's daughter telling her that she wants to go to Brownies. Toula tells her daughter that she understands but instead promises that she can choose her own spouse. She tells her daughter this as they head out to Greek school, which shows that Toula, in the end, learns to embrace her identity.
I know that the Brownies mentioned in the film aren't the same as the dessert. However, I thought a play on words would be fun. After all, this is a super funny movie with some unexpected twists.
Incredible Cake Mix Brownies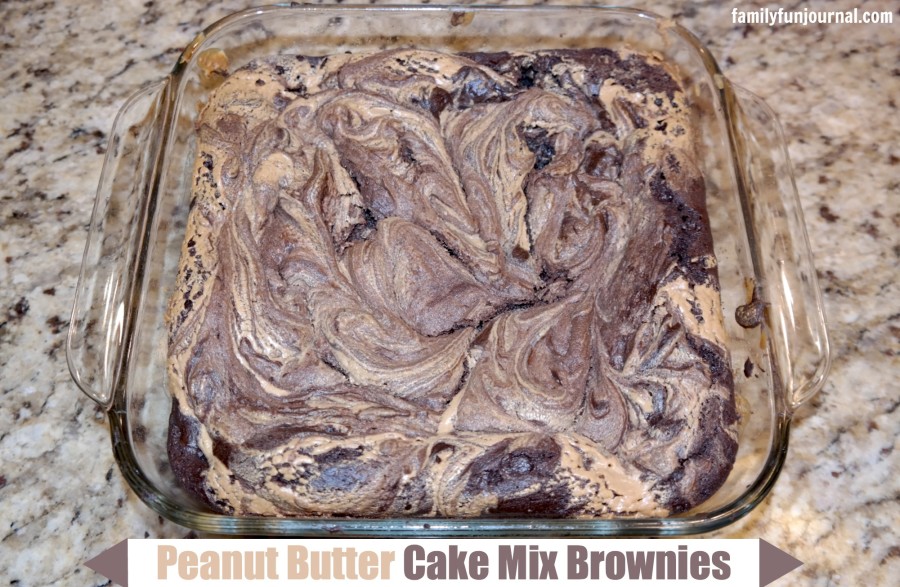 Now, about the brownies. You know how you can have those times when you want brownies, but dont have any mix? Sure, you could make them from scratch, but sometimes you want to take the easy way out.
Did you know that you can make amazing, incredible brownies from a box of cake mix? I know that you are probably a little skeptical.
Let me tell you that cake mix brownies are really, really good! These brownies combine two of my favorite things: chocolate and peanut butter.
Cake Mix Peanut Butter Brownies
Cake Mix Brownies
Ingredients
Duncan Hines Classic Dark Chocolate Fudge Cake Mix
½ cup melted butter
2 eggs
1 tsp vanilla
¼ cup water
½ cup chocolate chips
½ cup peanut butter
Instructions
Preheat oven to 350.
Spray a dish with non stick spray.
Combine all of the ingredients (minus the chocolate chips) in a mixer.
Mix until incorporated.
Add the chocolate chips and mix a few times to incorporate them.
Spread brownies in pan.
Melt ½ cup peanut butter in the microwave.
Spread over the brownie mixture and use a knife to form a swirl pattern.
Bake at 350 for 25-30 minutes.
I want to add that the batter will be thick. I found it easier to coat a spatula with cooking spray to help press it into the pan. You will get a little bit of a work out getting the batter in the pan. Trust me. It is so worth it.
Now that you've seen my recipe for peanut butter cake mix brownies, check out the contributions from the other Blog, Film, Food participants.
The Grant Life-Greek Pasta Skillet
Eat, Pray, Read, Love-Orange Dreamsicle Cake
Kirsten Oliphant-Homemade Hummus
The Involuntary Housewife-Buttermilk Strawberry Bundt Cake
Penney Lane Kitchen-Greek Wedding Cookies
What could be better than amazing desserts centered around a movie theme? How about a giveaway of the film?
 A Big Fat Greek Wedding Giveaway
In addition to fun recipes, Kelly from The Grant Life is giving away a copy of this movie! See the rafflecopter below to enter.