I love brownies….Who doesnt? Here is a great selection of brownie recipes from fruit filled to Paleo. I bet everyone can find a brownie recipe that their families will enjoy.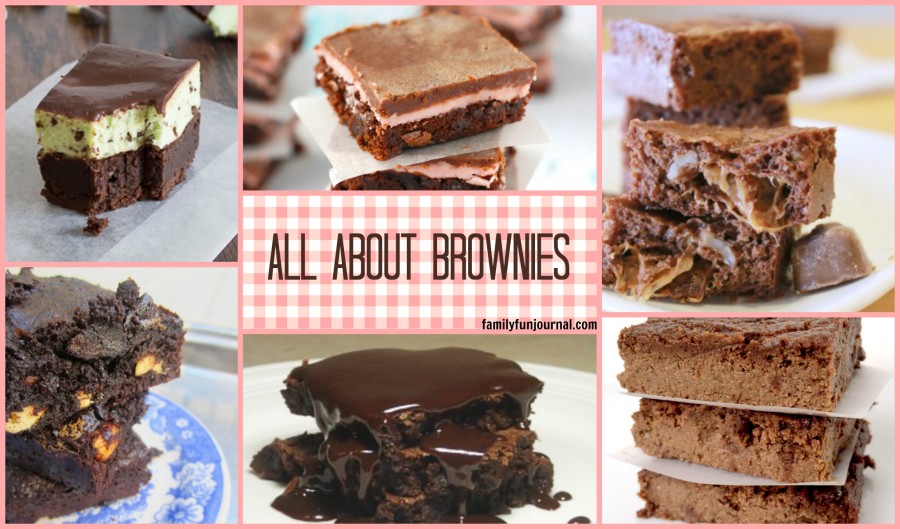 The Mint Chip Mousse Brownies from The First Year Blog look amazing! I'm a huge fan of mint chocolate chip ice cream, so these are right up my alley! I would probably eat the mousse as a dessert all by itself!
The Chocolate Raspberry Brownies from Wine and Glue almost look too good to eat. I love the combination of pink and brown. Can you tell that from the brownie collage? I bet those taste really great. Raspberry and chocolate are definitely a winning combination.
Caramel Brownie Bites from Summer Scraps feature Milky Way Simply Caramel Bites and nuts. Does it get any better? I bet those taste just like a candy bar in brownie form!
My Favorite Cocoa Brownies from Sabor Pastel look to-die-for. They feature a unique addition-M&M Sweet & Salty Snack Mix. After reading her post, I want to jump in my car and track down a bag of that mix. I've never tried it, but that is about to change in the very near future.
The Coffee Brownies from The Involuntary Housewife combine two of my favorite things: chocolate and coffee. Miranda posts the BEST recipes on her site. If she says these are good brownies, then rest assured, they are good brownies. I cant imagine anything better than eating a brownie that also provides a caffeine buzz.
The 5 Minute Paleo Brownies from Satsuma Designs are cake-like. I love that this brownie features zucchini and macadamia nuts. I think these are a great way to sneak healthy ingredients into a sweet treat that my daughter will eat.
All of these recipes are from Life of the Party Link Ups. To join the fun, check back here every Thursday night at 7 p.m. central.