Banana muffins are a great, healthy breakfast option. These are so easy to make and taste delicious!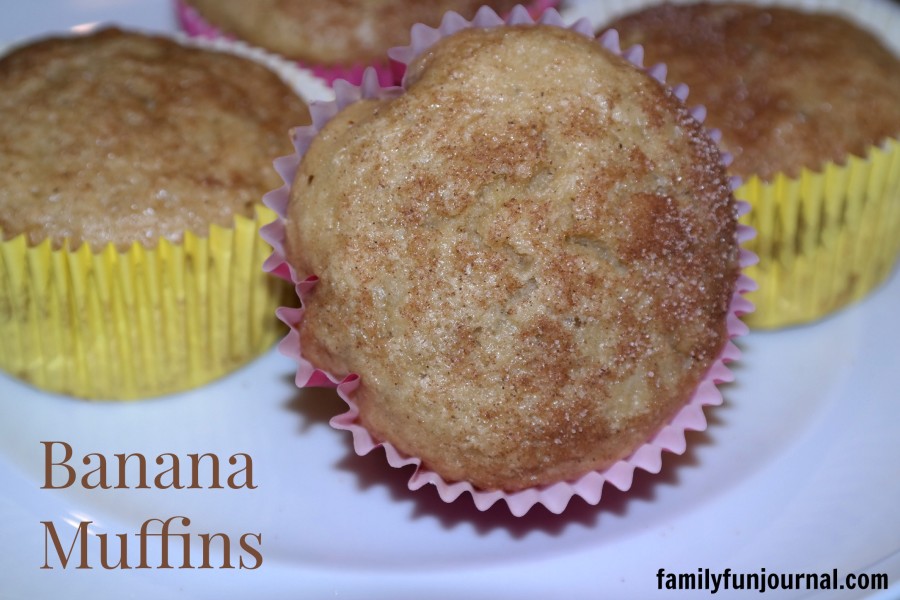 I love banana muffins. They are one of my most favorite types of muffin. I like to make these and store them in the refrigerator. When it is time for breakfast, I slightly heat the muffins in the microwave. They always taste great.
These muffins make a great breakfast on the go. They are also a great way to get your kids to eat bananas.
To make these muffins extra delicious, I topped them with cinnamon and sugar before I put them into the oven. You don't have to do this step, however, it does make the muffins taste pretty spectacular.
You might notice that these muffins don't require oil. How cool is that? Instead, I used apple sauce. Dont worry, you cannot taste the apple sauce. So, it doesn't interfere with the banana flavor. Using apple sauce, instead of oil, is a healthier way to prepare these amazing banana muffins.
Why banana muffins?
My family loves bananas. We never seem to finish them though. I always end up with a few overripe bananas that no one wants to eat. These muffins are a great way to use those leftover bananas.
Fun ways to eat banana muffins:
Top with jelly.
Top with peanut butter
Top with peanut butter and jelly
Top with Nutella
Top with butter
Top with honey
Banana Muffins
Banana Muffins
Ingredients
2 eggs
1½ cups ripe bananas
½ cup apple sauce
¾ cup sugar
2 cups of flour
1½ tsp. baking powder
½ tsp. baking soda
¼ tsp. salt
¼ tsp. cinnamon
Cupcake papers
1Tbsp. of sugar combined with 1 tsp. of cinnamon for topping.
Instructions
Combine the eggs, bananas and apple sauce.
In a mixing bowl, combine the dry ingredients.
Slowly add the wet ingredients, mixing on low until incorporated.
Divide the batter among the muffin cups.
Top with cinnamon and sugar
Bake at 350 for 18-20 minutes
This recipe is really easy to follow. You don't have to use cupcake papers. I think it makes them a little easier to eat on the go. If you choose not to use the papers, make sure you spray your cupcake pan with cooking spray so that the muffins don't stick.
If you like this recipe, check out:
The Best Banana Pudding Recipe
Banana Bread Waffles
Low-Fat Pumpkin Muffins