This skillet cookie recipe is a fun family dessert! It is so easy to prepare and even more fun to eat!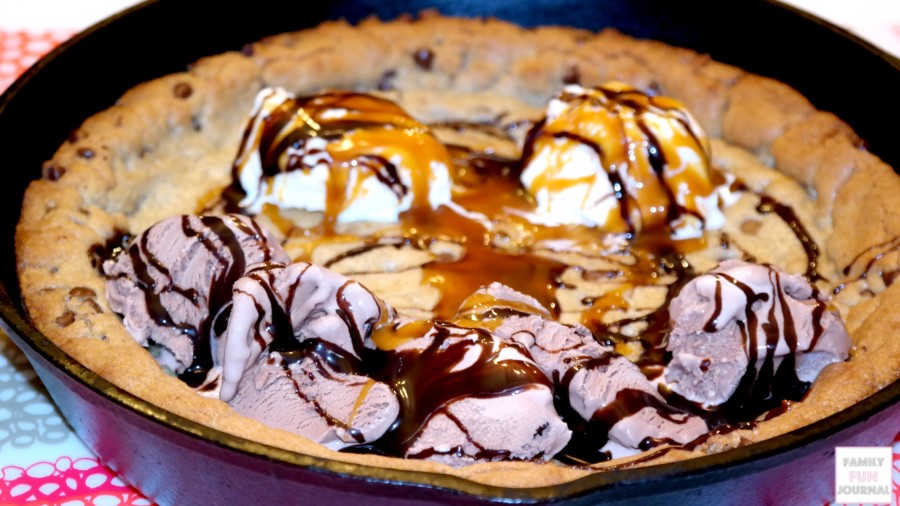 Skillet cookies are so much fun! This dessert is something your entire family can eat at the same time. You can eat it out of the skillet or cut it into wedges.
You might be wondering…I see the cookie….but what flavor is it?
Well, I combined two of my favorite things: peanut butter and chocolate. So, this skillet contains a peanut butter and chocolate chip cookie. You can thank me later. 🙂
Why a skillet cookie?
You know how sometimes you want something a little different for dessert? This is definitely the cookie recipe for you. If you are expecting it to taste like a cookie cake, you would be kind of correct.
It tastes even better! Trust me, you will LOVE this unique cookie dessert.
I cooked this cookie in my cast iron skillet. I love to cook with cast iron. It made this cookie recipe amazing.
This gigantic skillet cookie recipe is the ultimate family fun dessert. We all helped prepare it. We had so much fun topping this giant cookie with our favorite ice cream and sauces.
Peanut butter chocolate chip skillet cookie recipe
Amazing skillet cookie recipe
Ingredients
2¼ cups flour
1 tsp baking soda
¼ tsp salt
½ cup peanut butter
¾ cup butter
½ cup granulated sugar
1 cup brown sugar
1 tsp vanilla extract
2 eggs
1 cup mini chocolate chips
Instructions
Preheat oven to 375.
Grease cast iron skillet with butter.
Combine flour, baking soda and salt and set aside.
Beat together the eggs, butter, peanut butter, sugars and vanilla extract. Combine until incorporated.
Mix in the combined dry ingredients.
Gently stir in the chocolate chips.
Spread the batter into the cast iron skillet. It should make about a half inch layer.
Bake for 20-25 minutes.
Skillet cookie tips:
When you press the batter into the pan, you should butter your hands. It will make things way easier.
Also, you don't have to use mini chocolate chips. I prefer them because I like the way they distribute throughout the cookie.
Depending on the size of your skillet, you might have leftover cookie batter. I just baked a small batch of cookies with the leftover batter. If you make cookies, cook them for 12-15 minutes.
When you pull the cookie out of the oven, you have to let it cool for about 20-30 minutes.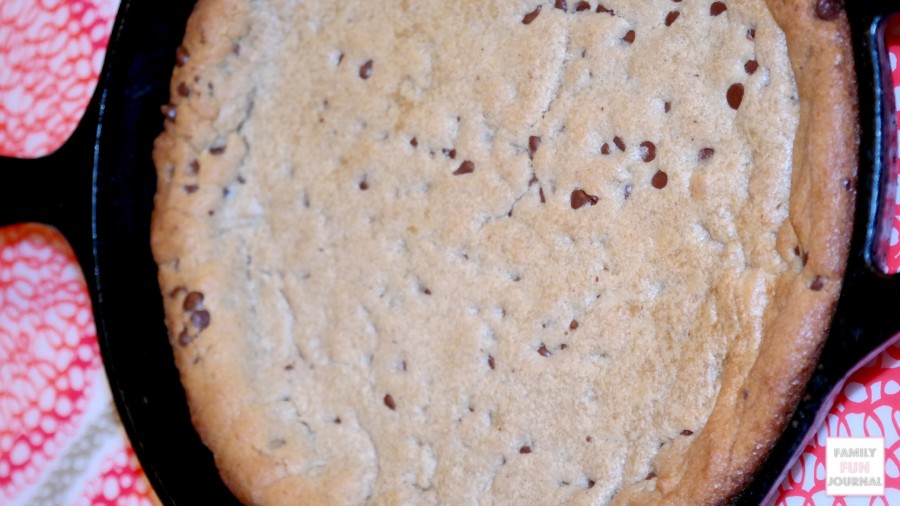 After the cooling period, you can decide how you are going to eat this delicious skillet cookie. There are several serving options. You could totally eat it plain. However, we decided to have a little more family fun with this skillet cookie. We topped ours with ice cream, caramel and hot fudge sauce. We even formed a smiley face out of the ice cream. My daughter loved it!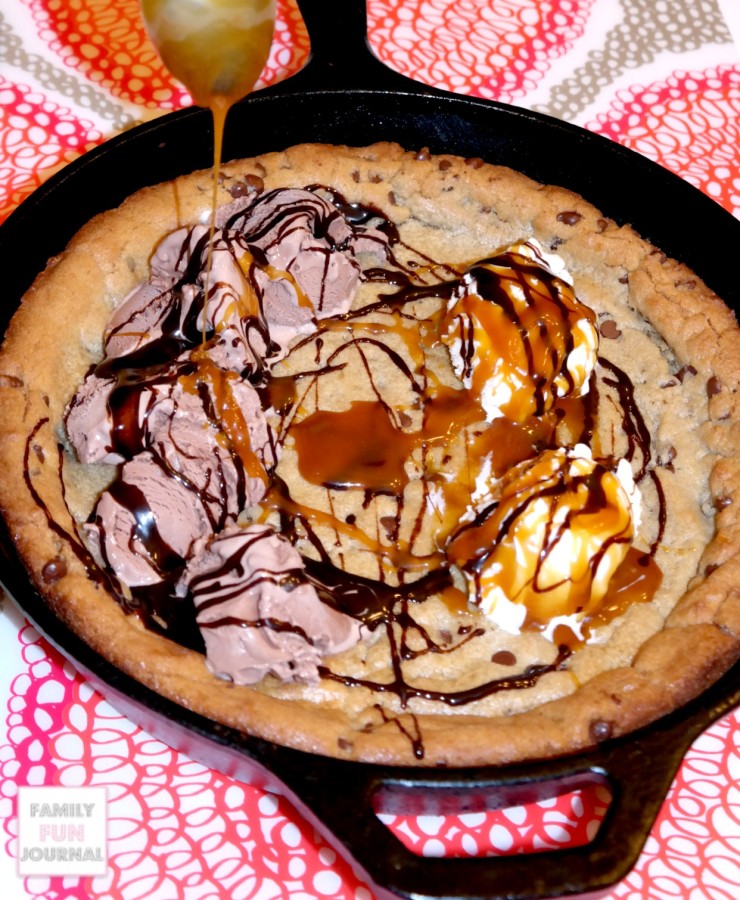 I hope you and your family love this skillet cookie recipe!