I love, love, love chocolate chip oatmeal cookies. Throw in some peanut butter and you have created my very favorite cookie! Because everything is better with peanut butter, right?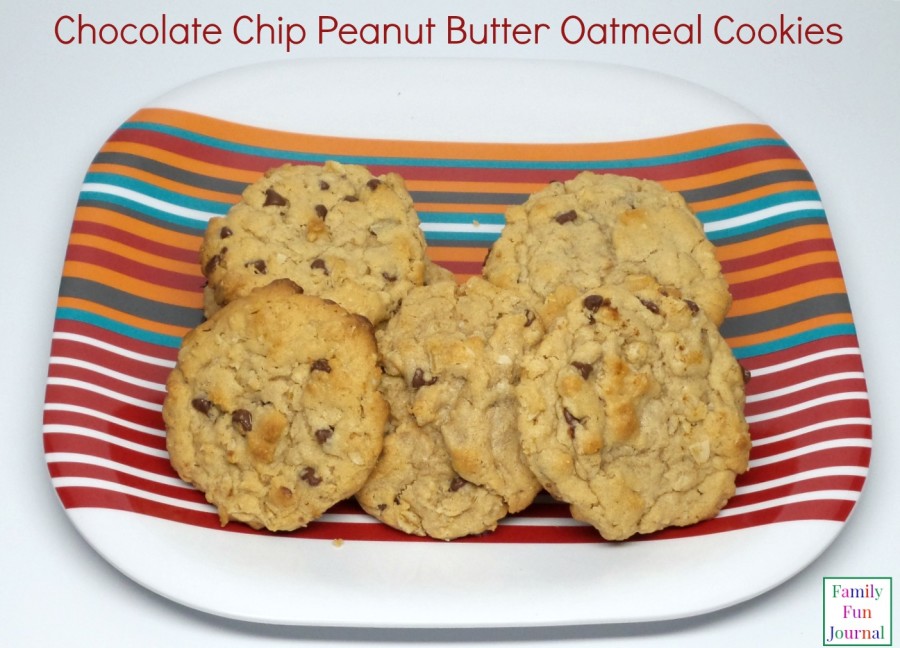 These are not your ordinary chocolate chip oatmeal cookies. We've already talked about the peanut butter. Let's talk about why these cookies are super AMAZING.
I don't just throw the oats into the batter. I chop them. I used a hand chopper. You could also use a food processor. I don't grind them into a fine dust. I just kind of make them smaller. Almost like cutting them in half.
I know you are wondering…why is she chopping the oats?
I don't know. Just kidding.
I do this so that the cookie has a better texture. You still get the oat flavor and texture but you don't get mouthfuls of big pieces of oats. Your kids will thank you for making this extra step.
These cookies are so simple to prepare. I love that I can throw everything into one bowl. This recipe doesn't require multiple bowls. Im always happy when I don't have to do extra dishes. Aren't you?
Peanut Butter Chocolate Chip Oatmeal Cookies Recipe
Amazing Chocolate Chip Oatmeal Cookies
Ingredients
¾ cup softened butter
1 cup peanut butter
1 cup sugar
½ cup brown sugar
1 tsp. baking powder
½ tsp. baking soda
2 eggs
½ tsp vanilla
1¼ cups of flour
2 cups of oats (chop or blend to create oats that are reduced in size by half)
1 cup mini chocolate chips
Instructions
Preheat oven to 375.
Beat butter, peanut butter and sugars until combined.
Add baking powder and baking soda. Beat thoroughly.
Add eggs and vanilla. Continue beating.
Add the flour. Mix until incorporated.
Add the oats. Mix until incorporated.
Stir in the chocolate chips.
Bake on an ungreased cookie sheet for 8-9 minutes.
If you like these cookies, check out these posts:
Chocolate Chip Cookie Dough Frosting Sandwich Cookies 
Peppermint Crunch Oreo Cookies