I received A Town Called Panic to facilitate this review. All thoughts and opinions are my own.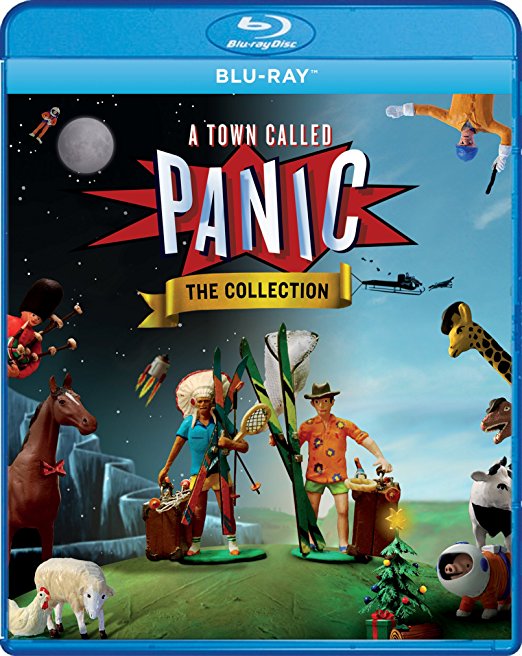 From GKIDS in collaboration with Shout! Factory, comes the acclaimed comedy A Town Called Panic. On Dec. 19, you can own this collection.
A Town Called Panic centers around three plastic and hilarious toys, which include Cowboy, Indian and Horse. These three zany characters are always up to strange adventures that are a ton of fun for the entire family.
Cowboy and Indian often team up to and get involved in very precarious situations. Thanks to their often disastrous results, Horse has to clean up their messes.
In Christmas Panic, Cowboy and Indian cause so much trouble, Horse has to call Santa to cancel the presents. However, the two mischevious characters decide to save Christmas by stealing a yule log! In Back to School Panic, there is a great prize for completing a quiz. When only Pig knows the answer, Cowboy and Indian use a shrinking potion to sneak into his brain!
This DVD collection is full of funny stop-motion entertainment. If your kids love toys and comedy, they will enjoy A Town Called Panic.
As a special addition, this collection includes two hours of A Town Called Panic shorts that aired as a series on Nicktoons, and The Grey Room, a new short film by the same directors
This award-winning programming would make a great stocking stuffer or fun entertainment for your family!
A Town Called Panic Giveaway
Terms & Conditions
Family Fun Journal is hosting this giveaway on behalf of Shout! Factory.
Facebook, Twitter, Instagram and Pinterest in no way sponsor or endorse this giveaway.
By clicking the green "I did this!" buttons you are confirming that you completed these entries and give Family Fun Journal permission to contact you via email and to announce your win.
Void where prohibited or restricted by law. Must be at least 18 years of age to enter.