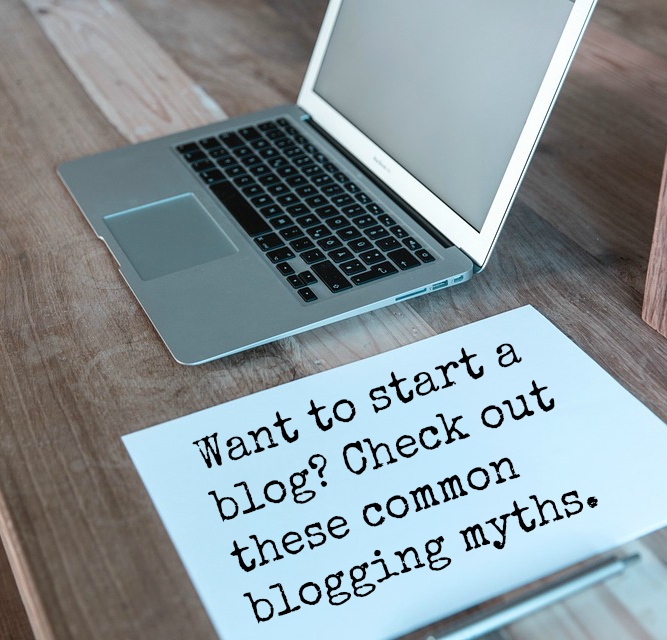 I've been blogging for a really long time and have learned a lot along the way. I get a lot of questions from readers about starting a site, etc. So, I thought I would discuss blogging myths. If you haven't started your own site yet, there are many misconceptions out there. Let's clear some of them up.
Blogging is a hobby.
There are a lot of reasons people decide to start a blog, but in actuality, there are two groups of bloggers: career and hobby.
How do you know if your blog is a hobby or a career? I think it is all about mindset. A lot of people think a blog is a hobby until you start generating an income. In my opinion, I don't think that is necessarily the case.
If you want to start a blog and generate income, then to you, your blog is a career. If you want to put the planning and work that goes into starting a site, then it is your career.
You have to be a professional writer to start a blog.
While you don't have to be a professional writer to start a blog, it helps along the way. But, wait, don't give up here. If you aren't a professional writer, you can still start a Web site. Some of the most popular bloggers make grammar mistakes. A lot of them. I know what your'e thinking. How can this be true? Like I tell my daughter when I don't have a good explanation, just because.
As long as you are sharing a relevant message or useful tip or idea, grammar is kind of secondary.
But, let me caution you, if you want to get noticed by major brands and other news outlets, the grammar needs to be there.
There are a ton of Internet sources on grammar. One of my favorites is: Purdue Owl. You can take an online course or even check out library books on the subject.
You have to understand Web coding to start a site.
No, you don't have to be a techie to start your own site. There are plenty of YouTube videos, articles and self help books on the subject. I like the Genesis platform because it is an all inclusive theme for a self hosted site. I'll cover that in a future post.
You have to pay to start a site.
No. You can start for free on Blogger or WordPress.com. Once you start generating income, you can switch to a self-hosted site. I started on Blogger and later switched to self-hosted. If you do start on a free platform, I think you should spend the money to secure your URL now. My first address had blogspot in it. When I went to transfer to self-hosted, I had to code redirects to my new URL. This small investment will save a ton of work later on. Plus, it gets readers used to your URL.
Once you publish your first post, readers will flock to your site.
This isn't true. Blogging is more than publishing a post. You have to grow your audience. You have to attract readers to your site through social media. Once you do attract readers, you have to entice them to return to your site.
I hope this post cleared up several misconceptions about blogging. Check out my post that discusses why you should start a blog.