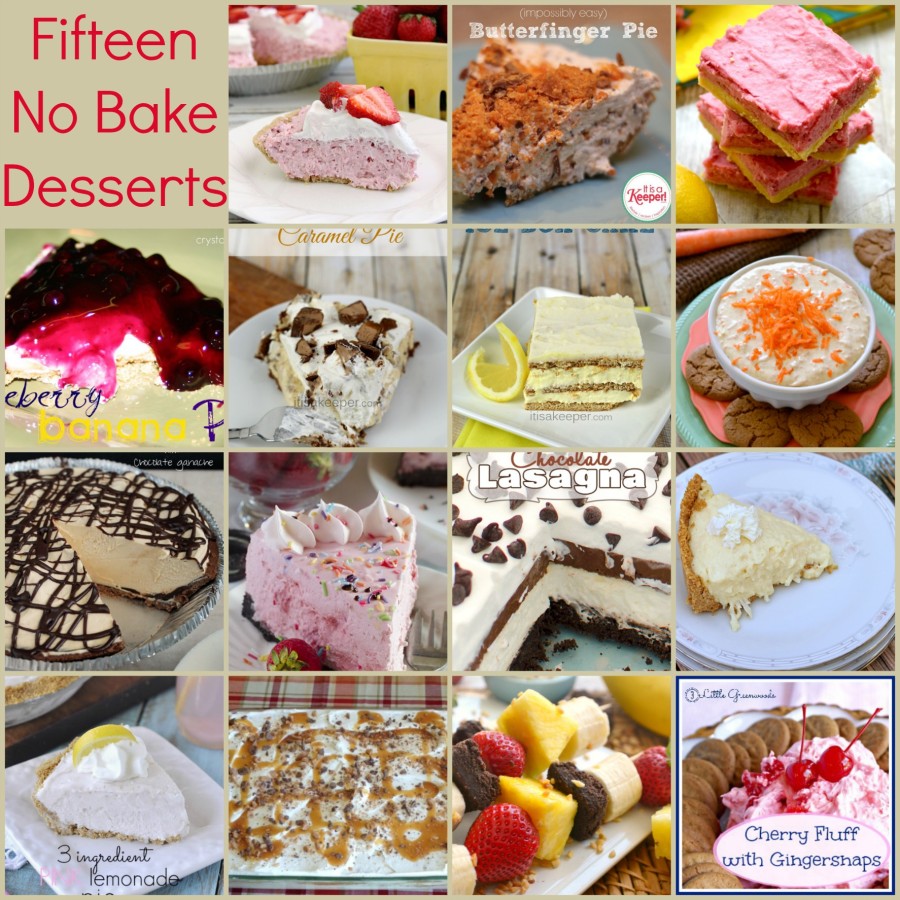 Summer in Texas is always way too hot. The last thing I want to do is turn on my oven to bake something. So, I put together a collection of no bake desserts.
These 15 desserts don't require oven time. Who knew no bake desserts could be so amazing! I cant wait to try these recipes.
Love Bakes Good Cakes made strawberry cream pie. I love the addition of fresh strawberries to the top.
I love butterfingers. I can only imagine that this butterfinger pie from It Is A Keeper would be incredible.
Lemon Tree Dwelling created lemon raspberry meltaway desserts. These would be a refreshing summer treat.
Crystal & Co. made this amazing looking blueberry banana pie. I never thought about combining blueberries and bananas. I bet it is a delicious combination.
It Is A Keeper put together a yummy no bake caramel pie. I bet that would be great with a cup of coffee!
She also created the next no bake dessert. This lemon ice box cake looks like the epitome of a summer sweet treat.
Lemon Tree Dwelling put my favorite cake into dip form. This creamy carrot cake dip would be a hit at my house. Plus, it has to be healthy…it has carrots in it…. Right?
OK, the next dessert from Chocolate, Chocolate and More features my two favorite things: peanut butter and chocolate. This peanut butter pie with chocolate ganache wouldn't last long in my house.
OMG Chocolate Desserts created this pretty strawberry cheesecake. I love the addition of sprinkles.
She also created this way too tempting chocolate lasagna. I love the layers of chocolate in this dessert.
Can you imagine making a coconut cream cheese pie that doesn't require an oven? This pie from I Love My Disorganized Life looks really great.
Lemonade is a very popular summer drink. Your Home Based Mom made a pink lemonade pie. I bet this is a hot weather hit!
This next dessert is an apple pie lasagna. Trust me. If you have an event, bring this dessert. It will be a very popular item.
Lemon Tree Dwelling put a creative twist on a banana split. Her banana split kabobs look like so much fun.
I love ginger snaps. Beauty Through Imperfection created an amazing cherry fluff that pairs with the spicy cookies.
I hope you've enjoyed this amazing collection of no bake desserts!
If I've featured you from the Life of the Party Link Up, visit this featured page to grab your button!